Pentair
Pentair IntelliFlo VS+SVRS Variable Speed Plus Safety Vacuum Release System Pool Pump 011057
SKU:
011057
Regular price
$2,199.00
$0.00
Unit price
per
The IntelliFlo VS+SVRS Variable Speed Pump was the first pump developed with an integrated Safety Vacuum Release System (SVRS). This system features a built-in controller and proprietary software designed to help detect a suction or drain blockage and automatically stop the pump to provide an added layer of protection against entrapment. The IntelliFlo VS+SVRS pump complies with the current ASME A112.19.17 standard for Safety Vacuum Release Systems (SVRS)
Designed to pair with Pentair Easy Touch or IntelliTouch Automation Systems, the IntelliFlo VS+SVRS can be programmed to deliver the right flow required for filtration, water features, spas and other equipment. With the IntelliFlo VS+SVRS, you can add equipment and features, or change them, without reducing pump performance all while still providing maximum energy efficiency.
Features
Proprietary software designed to help detect a suction or drain blockage, automatically stopping the pump
Compliant with the current ASME A112.19.17 standard for Safety Vacuum Release Systems (SVRS)
Eight (8) programmable speed settings and built-in timer
New rotatable keypad

 

for easy programming and viewing - keypad has the ability to be wall mounted with optional wall mount kit (sold separately)
Intuitive interface/ HMI simplifies programming and use
Top-mounted field wiring compartment for easy access and installation
Totally-enclosed fan-cooled design (TEFC) for quiet operation
Built-in diagnostics protect the pump for longer service life
Interfaces perfectly with Pentair automation systems
ENERGY STAR Certified
Standard for residential and commercial swimming pool, spa, hot tub and wading pool suction systems, as required by the Virginia Graeme baker pool and spa safety act.
Optional keypad wall mount kit part No. 356904Z
The ONLY Way To Comply With New Federal Anti-Body Entrapment Standards And Save Money
There's simply no better way to add a Safety Vacuum Release System (SVRS) to your public pool or spa than with the IntelliFlo VS+SVRS pump. It helps prevent suction entrapment and also provides value that no other solution can. While other safety solutions represent an added cost, the IntelliFlo VS+SVRS pump is an investment that may potentially save thousands of dollars in energy costs over its long life.
Safety Features
Includes a built-in controller with proprietary software that detects blockage and automatically shuts itself off within seconds
Meets ASME A112.19.17.2002 standards, thus complying with the Virginia Graeme Baker Pool Safety Act SVRS Requirements
No SVRS calibration required: the blockage detection/shut down function is pre-programmed into the software
Unlike other devices, the IntelliFlo VS+SVRS pump's SVRS protection cannot be turned off
For added safety, if the SVRS becomes disabled, the pump will not run
Safety lock-out feature (password protected) prevents pump speed settings from being changed by unauthorized personnel
Why slower is better
The surprising secret to minimizing pump energy costs is to operate at the lowest speed needed to accomplish a job. It takes far less energy to move water slowly than quickly. Why? Because there's lower resistance in the filter, accessories and plumbing system. Even with only modest pump speed reductions, the effect on electricity usage can be dramatic. In fact, reducing pump motor speed by 25% actually reduces the power needed by 58% of what's consumed at the higher speed. A good analogy is your car: you get much better gas mileage at 30 mph than at 90 mph. The same is true with pool pumps—run slower to reduce energy used.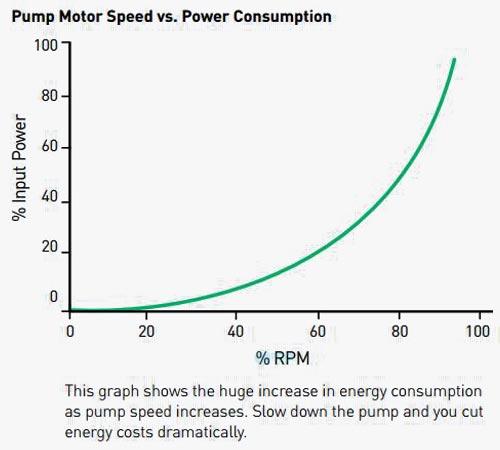 Engineered for exceptionally long life
The IntelliFlo® VS+SVRS Pump's permanent magnet motor produces far less heat and vibration than traditional induction motors. This not only results in less stress and wear on pump components, but on other equipment, too. Exclusive load-sensing software provides nearly instant priming which saves energy and reduces wear and tear on the pump. Plus, built-in diagnostics protect the IntelliFlo VS+SVRS pump from the most common causes of premature pump failure—loss of prime, overheating, freezing and voltage irregularities. The result is you can expect dramatically longer life and an even greater return on your investment.
Other Features
The IntelliFlo VS+SVRS pump anticipates and solves other pool operating challenges:
Easy to program and monitor: simple push-button controls and clear LCD readouts make operation a cinch
Ability to set minimum and maximum speeds: The IntelliFlo VS+SVRS pump will only operate within the ranges you set to help assure safer operation and long equipment life
Built-in clock and timer: eliminates the need for an added time clock or expensive controller
---