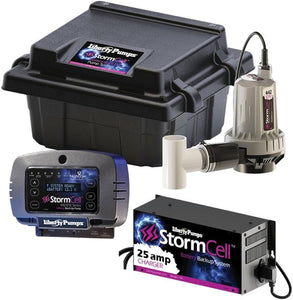 Liberty
StormCell Battery Backup Sump Pump System 12VDC 25A 46GPM
SKU:
422-25A
This battery back-up sump pump provides uninterrupted flood control for your basement in the event of a power outage or main pump failure. The StormCell system features high-output pumping, an energy efficient DC pump for longer run times and professional-grade charger/controller.
Package includes:
Backup pump
Battery case
Activation switch
Alarm
Charger unit
Check valve
Plumbing and mounting components
AC power supply
Features
Energy efficient 12V DC pump (manufactured in the USA by Liberty Pumps)
Flows 30 gpm at 10 ft
Heavy-duty fan cooled 25 amp charger (can run as a continuous power supply for the backup pump in the event of a main pump failure)
Suitable with Wet Cell, AGM or gel-type batteries (sold separately)
Dual battery box accommodates (2) Group 27 or 31 batteries
Microprocessor controlled with energy efficient Switch Mode Technology
Remote wall-mount user interface with LCD display
Audio alarm (features a self-reset after silence)
Super-bright red LED alarm ring
9-volt battery backup – operates alarm in standby mode for up to 72 hours
Alarm and pump test buttons
Green LED AC power light and audible notification of power lost
Blue LED Pump-Run light
Auxiliary contacts (24VDC, 100 mA max.)
Compact "snap-on" activation float with integral alarm float (fits 1-1/4" and 1-1/2" pipe)
High water float acts as a redundant "on" float for the pump
Tee and fittings for standard installations
Please note that this package requires a battery to be purchased separately.
---